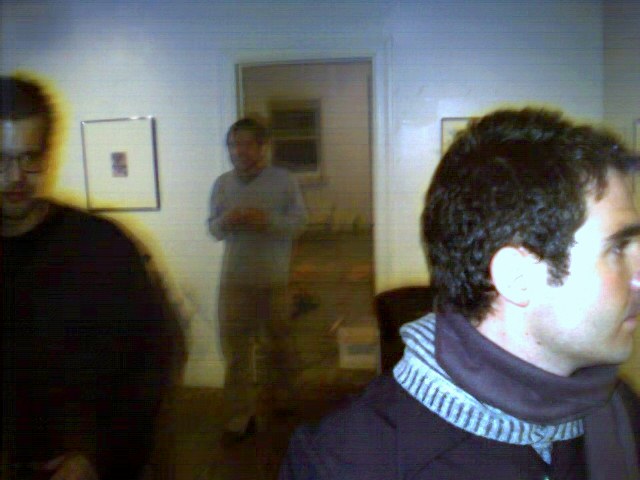 >>Decatur Blue is an art collective, studio and gallery founded in January, 2000. It is the creation of Washington artists :: Brian Balderston, Javier Cuellar, Ryan Hackett, Gabriel Martinez, Jose Ruiz, Stoff Smulson and Champ Taylor.
>>Go to the Press pages to read various articles written about Decatur Blue.
>>Our first locale was a 2,000 square foot loft space in the Shaw neighborhood of Washington, DC. We acquired the loft in January 2000 with the goal being to share studio space and host exhibits. As we worked and worked through February and March, the space became a very positive place to exist and create. The walls were painted and track lights were put up. The potential was brewing.

>>On April 8, 2000 we opened the doors to the public for our inaugural exhibit. It was a cold rainy night, but the place was packed. The art that was created together, was hung together and it made sense together.
>>It's been three years since that first night and we continue to do what we do well. We've hosted 16 shows now, exhibiting the work of local, national and international artists. We currently are nomadic and are taking the Decaur Blue experience on the road around the country. We are planning exhibits in San Francisco, New York, Miami and Philadelphia.
>>We found the name "Decatur Blue" on the African American Civil War Memorial, on the corner of U Street and Vermont Avenue. Decatur Blue served in the 41st Infantry of the Union Army during the Civil War. At the bottom of this page, after the photos, you can read an early article written about us in The Washington Post in late 2000.
>>Decatur Blue is a work in progress.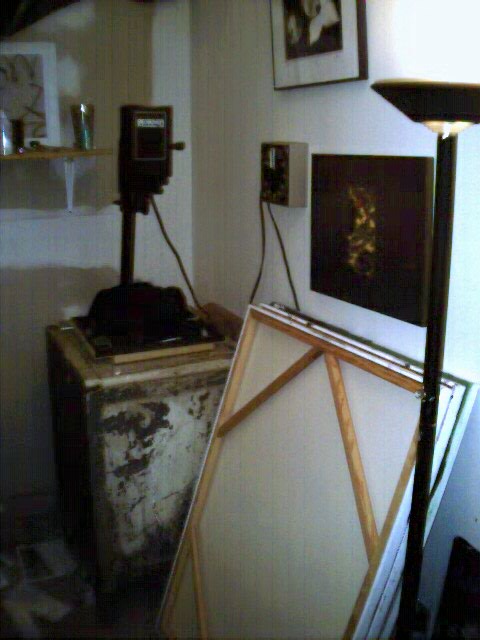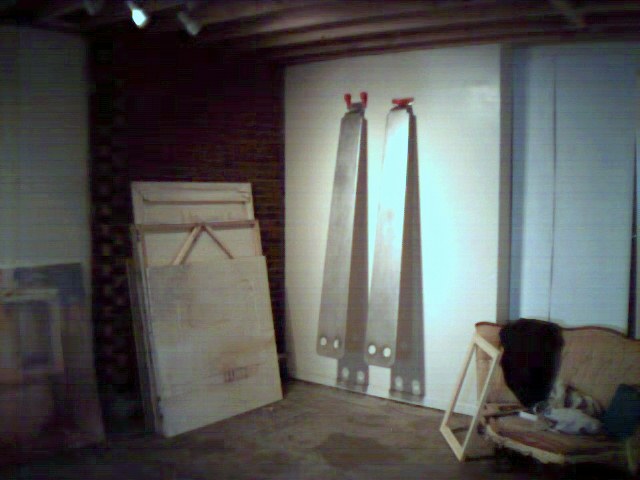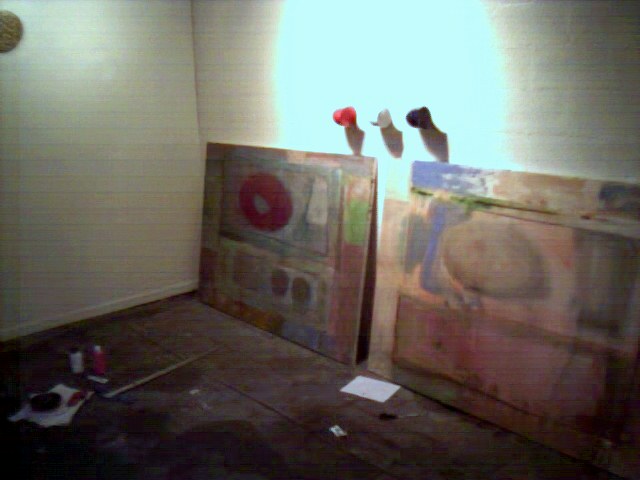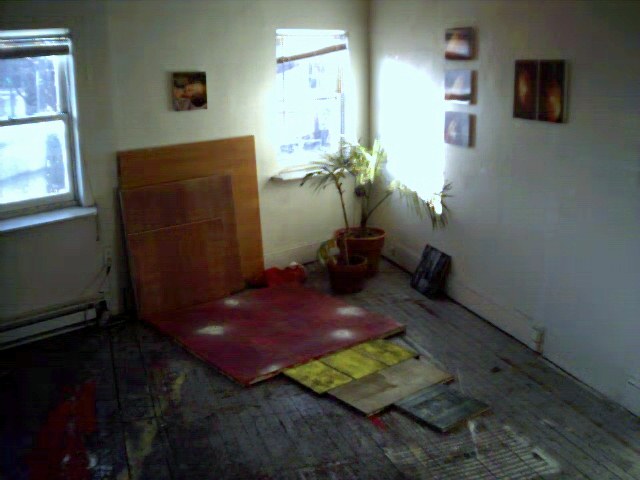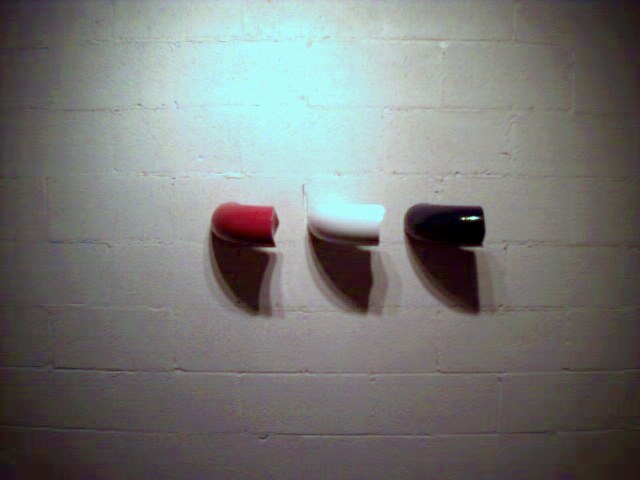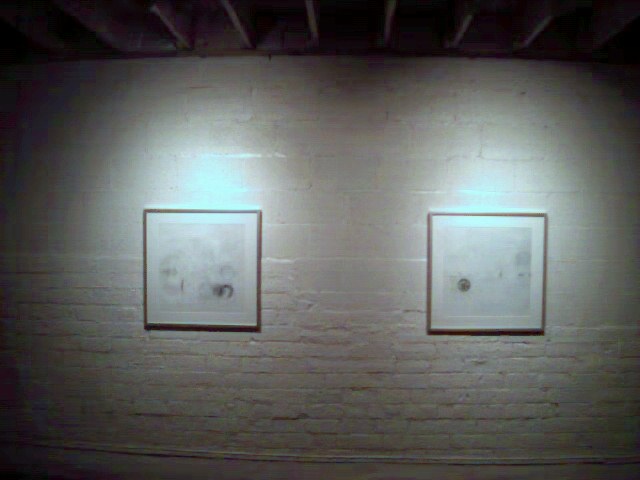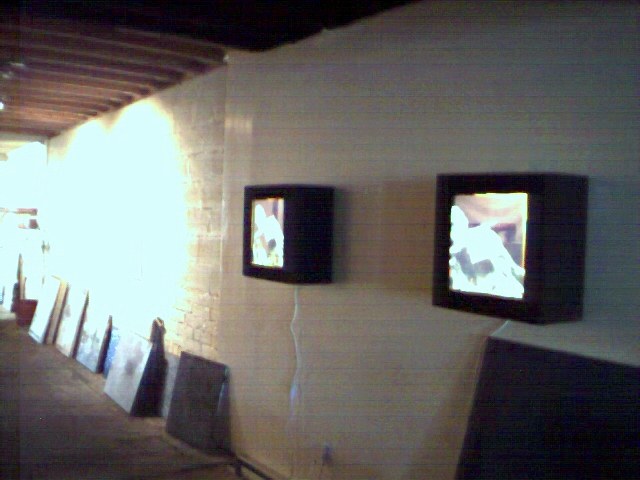 Art Minus the Middleman
By Jessica Dawson
Special to The Washington Post
Thursday, November 30, 2000; Page C1

Two decades ago, Washington's fiery punk music scene birthed the do-it-yourself record label Dischord. Run by musicians instead of record company honchos, the granddaddy of D.C. D-I-Y churned out its own discs, earning the label national and international recognition.

So far, D.C.'s visual art underground hasn't generated an artist-run gallery one where artists show and sell their own work, minus the dealer that's matched Dischord's longevity and influence. Older alternative spaces are a shadow of their former selves: cooperatives such as Gallery 10, started back in the 1970s, limp on; Washington Project for the Arts, under the Corcoran Gallery's aegis since the mid-1990s, operates without a permanent exhibition space; other groups have come and gone. Lately, though, D-I-Y energy is boiling up again, with shabby-chic artist-run Signal 66 leading the pack.

Enter Decatur Blue, five twenty-something artists who since April have been showing and selling art in a second-floor gallery-cum-studio above a former auto body shop on Florida Avenue. They came together when painter Jose Ruiz stumbled on the 2,000-square-foot space last January. Unable to make rent on his own, he called up four buddies. The quintet shares a studio, expenses and a healthy disdain for the city's established gallery system.
"We felt something needed to happen [in the D.C. art scene]," Ruiz says. "People need to experience art in a different way." For the Decatur Blue crew the name is taken from that of a soldier at the African American Civil War Memorial around the corner on U Street that means a laid-back vibe: Incense burns, cracks snake up walls and cigarette butts aren't always swept up. If it looks like they just had a party, they probably did.

The artists turns out raw art fitting their distressed digs. Their current exhibition, "Penta Luna," showcases the latest efforts of the five principals. Four work in mixed media; one is a photographer. (Past shows at Decatur Blue included works by D.C. artists J.W. Mahoney and Beatrice Valdes Paz, along with a smattering of out-of-towners.)
The group has in common an obsession with materials and surfaces; all five work predominantly in abstraction or collage. They favor bizarre materials like aluminum screen, dirt, duct tape, castoff wooden chairs and broken shelving. Painters Ruiz, Javier Cuellar and Ryan Hackett use solvents to eat into paint; Champ Taylor extracts materials from trash bins for assemblages; photographer Stoff Smulson splashes darkroom chemicals on paper. As if tinkering in the chemistry lab, each tosses around materials to see what happens. Like any science experiment, sometimes it works. Sometimes it doesn't.

Take Javier Cuellar. He's fond of using etching ground a thick brown liquid that he mixes with turpentine instead of paint. In "Dissolved," he juxtaposes two large stained canvases with six tiny ones, creating an energetic composition of surfaces that look as though they sat through a rainstorm and rusted. In other works, Cuellar uses bubble wrap and insulation panels. His bubble-wrap-encased canvases slathered with paint have an intriguing honeycomb texture. However, the artist's good idea isn't fully resolved here.

Jose Ruiz sticks more with duct tape. The silver adhesive tethers 12 suitcases in his installation "Trans (Getting Back With Empty Luggage)," and matted tape gets painted over in his Toxic Series, four square canvases inspired by toxic waste dumps. The Toxic Series palette seems cut with battery acid: fuchsia, rust and green run well below normal pH. To achieve his itchy surfaces, Ruiz mixes sawdust into his paints or shoots the canvas with spray-on adhesive that bubbles up on contact with paint. Although they could be the fermenting surface of a noxious pond, the canvases allude to diseased skin, too: The panel called "Toxic Sensation" hosts horizontal pink bands of color interrupted by splotchy eruptions revealing blackened, possibly gangrenous tissue below.

While Ruiz oversees the chemical dumps, Ryan Hackett looks under a microscope. In his monochromatic earth-toned canvases, he paints rounded forms with squiggly tails that could be sperm swimming in a petri dish. Hackett's best work floats on the wall like a mist: "Algae Bin 65" is a creamy olive-green haze that gives the appearance of great depth well beyond its two dimensions. Hackett has done several works this way, and they're beautiful. Others, where he's roughed up the canvas with scratches, return our awareness to the paintings' surfaces effectively shattering the three-dimensional illusion.

Champ Taylor checks in with mixed-media collages in the form of 1950s-era advertisements affixed to small canvases stretched around boxy frames, like a series of single-serve cereal boxes. He also presents found-object installations of goodies harvested from a Mount Pleasant alley. These compositions are solid, but didn't hold my interest.

Taylor's "The Three Graces" is a mixed media collage on a wood door hung horizontally, like a wide-angle movie screen. The artist pasted ripped-up figure study sketches near fields of blue and green paint; the figures loll around without heads or arms, like chinked goddesses off the Parthenon pediment. A nod to a Willem de Kooning door painting and a Robert Rauschenberg collage all in one, "The Three Graces" is captivating.

Stoff Smulson's black-and-white photographs are the odd material out here, but they balance the bigger pieces offered by his cohorts. Smulson's several abstract plays with darkroom materials Jackson Pollock does Developer aren't particularly rigorous. One figurative piece, "Man and Graffiti (Self-Portrait)," a photojournalistic shot of a dude in cool glasses, is the most engaging of his bunch.

In the spirit of the collective, the quintet offers one communal opus: Each artist donated a pair of frayed and paint-splattered trousers, which they've staple-gunned in a neat row to a rear wall. Lit with the precisely calibrated light the Metropolitan Museum of Art accords a Jasper Johns, the gesture is both cocky and ironic.
It remains to be seen whether Decatur Blue will be the art scene's Dischord. Clearly, though, they've got sass.

Penta Luna is on view through Dec. 11 at Decatur Blue, 919 Florida Ave. NW. Gallery hours are 6-9 p.m. Friday and noon to 5 p.m. Saturday, or by appointment. 202-518-8969.